I just today finished setting up a temporary GitLab project for Hexoshi, since the approval process on Savannah seems to be suffering a delay at the moment:
https://hexoshi.gitlab.io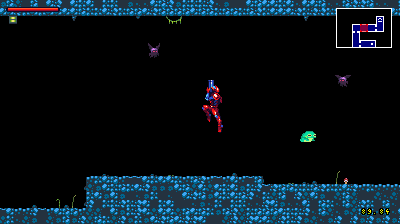 Hexoshi is a new libre game I'm working on which (as you might be able to tell from the screenshot and video) is largely inspired by the Metroid series. My goal is for this to be the greatest libre free-roaming game to date and I also seek to surpass the games that inspire it.
A
crowdfunding campaign
is currently live! The goals for Milestone 1 include:
* New abilities for the player character, Anneroy, which will be obtained by collecting special artifacts. The new abilities planned for Milestone 1 are an ability to transform into a little ball, allowing access to short passages; an ability to wall-jump, allowing access to otherwise out-of-reach ledges; and a spike weapon for the ball form to destroy special blocks and kill nearby enemies.
* Graphics that are currently missing, in particular death and teleport animations for Anneroy and a proper background.
* Completing the first major area of the game, composed of approximately 30-40 individual rooms.
* New enemies, which will be used in the first major area of the game.
* Deciding Anneroy's full name, the name of the planet, and the name of the first area.
The Crowd Supply page for Milestone 1 can be found here:
https://www.crowdsupply.com/onpon4/hexoshi
I would appreciate any comments, suggestions, or contributions.