With Bertram inminent (no pressure here) room code implementation i think we need to do this. Rooms wont be still functional but we can get them ingame and looking pretty; so in here ill try to expose textures and models for all our rooms that need a revamp or are just plainly missing. Help is appreciated and tileable textures are prefered but not mandatory since they can be reworked to be so; i will also get their normal maps done.
Core rooms:
Library
- DONE
Dormitory - Tile done, we need new beds
Farm
- DONE
Training hall
- DONE
Treasure room
- DONE
Forge
- DONE
Cript
- DONE
Guard room - TODO
Prison - TODO
Torture room - TODO
Advanced rooms:
"Arena": your creatures do a battle royal here, free training but creatures get injured and near death
"Hell pits": While creatures are here they will summon weak but mindless hellish drones that rush to attack enemies in a range (by bomb suiciding). This would be the fantasy equivalent of a maned missile battery.

"Dark temple": creatures generate mana by praying


"Recreation room"(Casino):creatures spend their money here, increases morale
"Sweatshop": where any creature dropped (enemy or owned) does forced labor to win a bit of money over time but cant be recovered and dies after some time.
Dormitory (lair):
place for creatures to make a bed to rest and refill their HP, nothing will join you without a few blocks of it;
We are still missing all monster beds and heroes only have one.
Farm
(hatchery): creates chickens for your creatures to eat, basic room to attract creatures
Treasure room:
stores gold, basic room to attract creatures
Training hall:
Your creatures train here to rise its levels, it cost a bit of gold to train them. it attracts warrior minded creatures
Library
: Place to research and advance in your specialization tree, or alternatively if thats never implemented to research rooms and spells; it attracts inteligent creatures like the cultist or warlock.
Forge:
this room is needed for traps and doors to be crafted, it attracts blacksmith type creature to work on it.
Weapons racks(to be used as wall models if the weapon creation in worshops/creature weapon upgrade gets developed
viewtopic.php?f=35&t=5373&p=56059&hilit=good+quality#p56059
) or else to be replaced with a wall forge: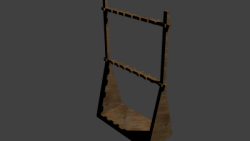 http://opengameart.org/content/weapon-rack
Some cool weapons: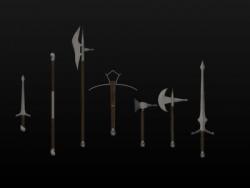 http://opengameart.org/content/undead-w ... eapon-rack
Prison:
Defeated enemy creatures are locked here, when they die of hunger they return as an skeleton
Tile texture:
http://opengameart.org/node/13431
Torture Chamber
: captured creatures can be tortured here to reveal information on their keeper or join your side, it attracts a S&M creature
Tile texture:
http://opengameart.org/node/13430
Guard Post:
any creature dropped here stands on guard until it gets tired, attracts orcs or dark elfs?
Tile texture:
http://opengameart.org/content/tiling-texture-pack-12